ARCHITECTURE & ENGINEERING

Diplomatic Missions
Taking advantage of PAE's exceptional and extensive experience of providing Facility Services for many Embassies in Japan and around the world, PAE provides architecture and engineering services for diplomatic missions. Over the years, with our understanding of diplomatic missions, unique and sensitive requirements, we have been become a trusted partner to many Embassies here in Japan, and has served such embassies as the USA, Singapore, Netherlands, New Zealand, Germany, Australia, Switzerland, and Spain.
Architecture & Engineering
Facility Management
Building Technologies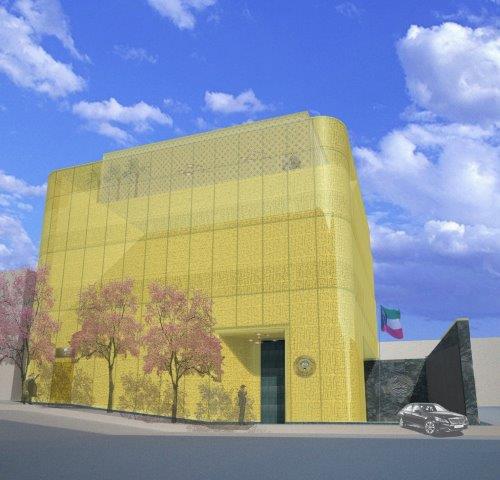 Embassy Building of the State of Kuwait
| | |
| --- | --- |
| Client | Government State of Kuwait |
| Project Size | 3063 sqm |
| Location | Minato-ku, Tokyo |
| PAE Role | Design Development and Design Management for Architecture, Structural, Electrical and Civil. |
The new Kuwait embassy is a simple, abstract "fortress" among the chaos of Tokyo. A tightly planned volume of dramatic public spaces and functional consular spaces, all protected by a modern,glowing skin of light. This glass skin, infused with symbolic imagery from both Kuwait and Japan is both opaque and solid, transparent and open.

A complex, high-tech skin that shimmers in the reflected light of the day and glows at night from the light within.

Seen from afar, the skin is a simple smooth sheath. As the building is approached, the subtle yet complex patterns inlaid between the glass plates begin to reveal themselves.

A refined geometric pattern emerges, one with depth that creates the illusion of movement as one passes by the building. Just as the desert sands of Kuwait shift, so does the play of light, shadow, reflection, and transparency in the building. The building shimmers in the sunlight.

To symbolize the relationship between Kuwait and the host country, traditional Japanese patterns are also used, with the shippo motif becoming a moveable, protective screen that transforms the top floor Ambassador's suite into a crowning "jewel box" of the Embassy building.